After working with numerous realtors and real estate developers, one thing is clear: while there is a lot of competition out there, it can take a few simple tips to have your website stand out, give a great first impression and lead to more business.
While these tips are the basics of having a website in any industry, they are particularly important for Realtor's websites who can often be making a first impression with their website.
When we're getting started with a new realtor's web design, we ask for certain pieces of content that help make the site look great, but also help with lead generation. After all, the purpose of a great design is the function of any website: a marketing tool for your business.
Since every transaction has a buyer and seller, realtors have the unique opportunity to represent either the buyer or the seller. These are two very different client profiles, that have obviously different goals. Most of the suggested website content for a realtors website is going to be suitable for any potential client, but the stuff that really works is created just for one audience.
---
Start with the essentials that every website needs.
Services Define Your Website's Purpose
Making it very simple to understand what you do (with some keyword research help) gives you an edge. Simplicity is magical. Remember, your speaking to potential clients, not others from your industry. They don't always know your realtor jargon.
Your Realtor Website Must Be Responsive
A responsive design adapts to the size and ratio of each person that is visiting your website. This gives the best possible experience since the text wrap, image sizes and menus adapt to the user's device. This is very important because web traffic on mobile devices and tablets is outperforming desktops. When the experience doesn't look right, people hit the back button and leave. That's called your "bounce rate" is much higher when websites are non-responsive.
The 'About' Page shares your Background and Shares your Unique Selling Proposition
Everyone has a story to tell and this is the place for it. Keep the story relevant and on topic. Things that make you a better realtor are a perfect fit. Things you do that add value to your clients and differentiate you from the other realtors are essential to helping you get the next new client. Take the time to write a good about page that works.
Update Regularly and be consistent
Fresh content on a website is very helpful. Google Appreciates it. So do your clients and prospects. Content must go beyond each of your listings. While this is new content, it also becomes less relevant once it's sold. A bunch of sold listings will help show your expertise and hustle, but Google doesn't see it as being very valuable.
Focus on creating content that isn't your latest listing or sold. Every Realtor has the "same" content, so Google sees it as generic, and reciprocity actually can penalize your site because it's nature is to create duplicate content (which Google hates) across thousands of Realtor's sites. Create content that stands out and showcases why a client should work with you.
Contact Pages Allow for Active Conversions That Lead to Business
Social, email, phone and contact boxes. You can even add live chat to your website. It really doesn't matter what you choose, but it must be easy to use. Don't make clients jump through hoops to send you a message. Keep it straight forward so you don't lose potential business.
If you had to change your email address or phone number, how many places would you need to update it? There's plenty of people who you have met years ago that would probably be able to look you up, make sure all of your contact information is accessible.
For Realtors changing brokerages – make sure all of your contact forms are going to your current email.
Now layer on the specific types of content that really show you're expertise and why clients can trust your opinion…
---
Leverage MLS Listings in your Neighborhood
It seems like the competitors are increasing for IDX and MLS plugins, websites, tools, and platforms. We suggest something that works for your platform and suits your needs. We like working with ClickSold because of how it seamlessly integrates with WordPress and how flexible the shortcodes are for filtering and segmenting listings. Those filters help match the content below and help with your conversion paths.
Be a Local Guide by Sharing Neighborhood Recommendations and Area Information
Realtors naturally become neighborhood experts by fielding questions about schools, parks, shops, restaurants, commuting times, accessibility to different services and other details. Amazingly, the realtors I know have the most knowledge about the different areas and are the first I ask for recommendations. They always know the best spots! Use this to your advantage, by showing off your neighborhood knowledge you can increase the number of visitors on your site and expand your brand awareness.
Having your conversations go beyond the transaction will help with leads that are not ready to buy immediately. Keep in mind…
It can be a long time before some people decide what to do with their home.
It can be a long time between transactions
You don't want to ignore these people, but you also don't want to waste your time.
Keep the leads warm with a monthly email newsletter … now doesn't that expert content come in handy?
Most people don't care about your most recent listing when they aren't ready to make a move. Keep them interested in relevant content so you stay top of mind when they need a realtor or need to give a referral.
Offer The Definitions of Type of homes
Carefully explain what type of homes are in certain neighborhoods. We suggest doing this in one of two ways. Defining each type of home and where you would likely find them (referring back to each neighborhood guide) or defining each type of home and comparing it with the other styles. Every city is different, and it can be helpful to know where most of the modern homes are, or where all the heritage homes can be found. Again, the goal is to show off your expertise.
---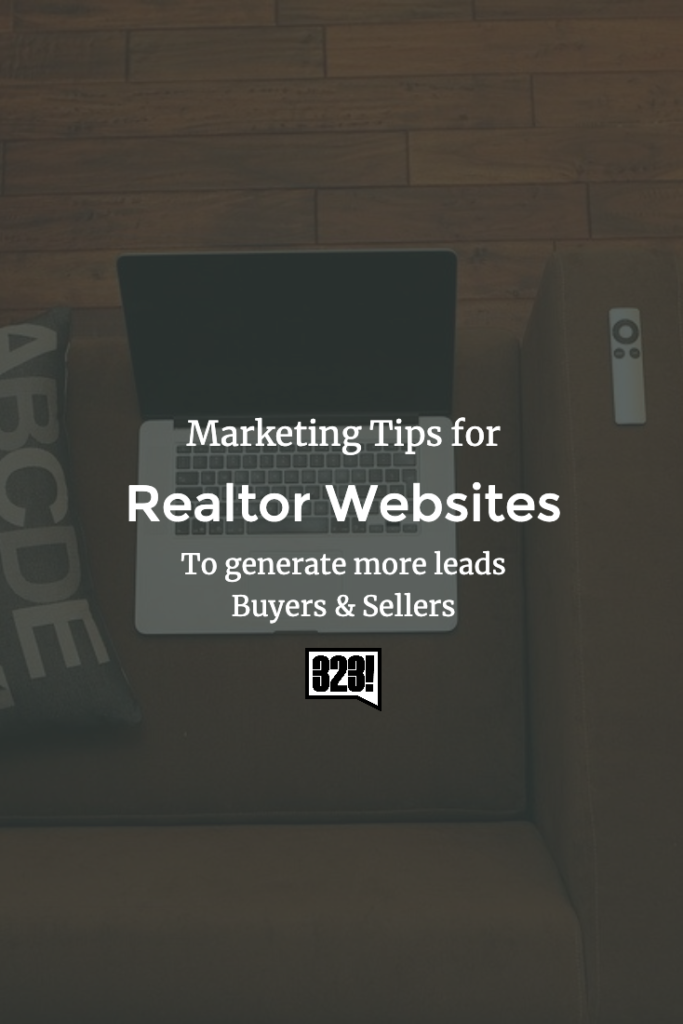 Marketing Tips for Realtor Websites to Get new Buyers as Leads:
Listing Filter
Of the hundreds of active MLS listings in any given area, you can easily group them into smaller amounts that make searching much easier. You could make it as simple as dividing houses from apartments or just by using plain language. Most buyers don't look for "single-family detached" they just google "house". Making the search easier is adding value. Take your neighborhood knowledge and provide groups of homes that people are likely to be searching for.
Buyers tips
Make a list of tips that you have learned over your time as a realtor working with home buyers. Can some of these be grouped together? "5 things you must do before looking for your next home" might be great content for your site. All of the questions you've answered can kick start lots of awesome blog posts.
Marketing Tips for Realtor Websites to Get new Sellers as Leads:
Showcase Past Transactions and Tell a Story
Everyone needs a portfolio, but not for the obvious reasons that everyone does it. Most selling agents like to show how many homes they have sold as a way to infer that they can sell your home too. This does have a surface attraction of "busy = successful" but it doesn't go deep enough to get prospects to crave your service. By telling client stories, you can use each past transaction as an opportunity to explain your process, the attention you give to each of your clients and infer confidence in your abilities.
Offer Selling Tips That Give an Idea of How Much Value you Add
Just like tips for buyers, tips, for sellers is just as important. The recommendations you make to homeowners before listing are helpful for anyone in the selling process. "How professional photos and videos can your home can bring more attention" could be your value add for potential sellers. Remember, most people don't sell their homes very often. Give them all the help they need. So,e will be as clients, but a lot of the initial questions you can address ahead of time to give them confidence and trust in you
---
Put the Effort into Your Website, we can help!
All of these sections complement your regular activity of listings going live, open houses, market updates and more. You have an opportunity, regardless of the market conditions, to start building a great brand that positions you as the expert in your serviceable area. Share what you know, have a beautiful website and rank top in Google.
Of course, there is plenty of technical mechanics happening behind the scene to complement the user experience, and that's what we're here for. From designing (or redesigning) to developing content and helping you earn more business or get qualified prospects to your listing, we've got you covered.
Latest posts by Chris Milton
(see all)